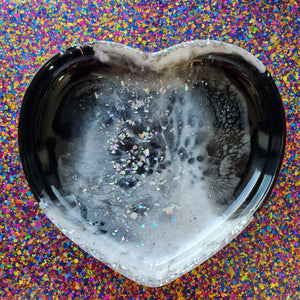 Handmade with epoxy casting resin, high quality glitters and resin pigments.
17cm length, 18cm width and 2.5cm tall.
All our new homewares are all safe for cold food preparation. However resin doesn't like heat. Please avoid heat and open flames.
Please refer to our care instructions on our website. 
*These are handmade items and may have some slight imperfections. Glitter placement in resin gives a unique result each and every time. That means no 2 items will be exactly the same in glitter placement. Small air bubbles can be common.