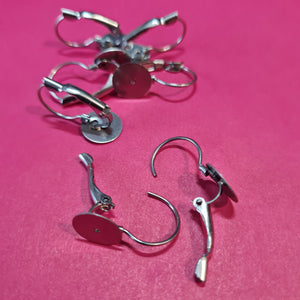 This listing is to add of 1 pair of Stainless Steel Sling French Hooks to your earrings. 
The pad of the sling French hook is 10mm. The stud or stud top of the earring needs to be bigger than the 10mm pad.
The pad is glued and then covered with smooth resin.
We remove the stud for your comfort and add the stainless steel sling french hook.
In the note section at checkout please add in a description of what and how you would like the hook added or email us at hyperresin@outlook.com

*Please note that with all handmade items there can always be slight imperfections and your earrings may slightly differ. That's just how resin works. 100% unique.