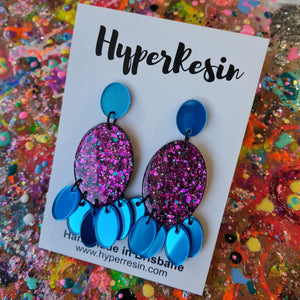 Handmade with epoxy casting resin, laser cut acrylic and high quality glitters.
The top stud is 20mm L and 18mm W oval.
These are long statements pieces but very light in weight. They weigh approx 12grams each dangle.
The earring post is surgical stainless steel and stainless steel clutch comfort earring backs.
These flare approx 50mm at widest and dangle approx 10cm in length.
Earrings are photographed infront of a postcard backing card.

*Please note that with all handmade items there can always be slight imperfections and your earrings may slightly differ. That's just how resin works. 100% unique.