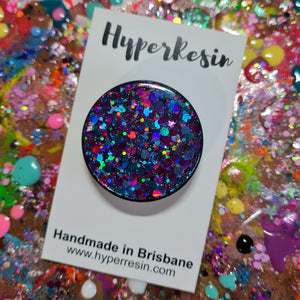 40mm domed glitter mix top glued into the black plastic phone grip base.
When flat the phone grip is approx 12mm in height and extends to approx 28mm in height. 
Our phone grips have a very sticky 3M adhesive to secure the phone grip to your phone or phone case.
Phone grips are a little stiff at first but loosen up after some use. 
Please clean the area before placement to maximise use. I use isocol to clean my phone case before placement of the phone grip. 
Multiples available and will be sent at random selection.
Happy to make custom phone grips. Please send enquiries via socials or hyperresin@outlook.com