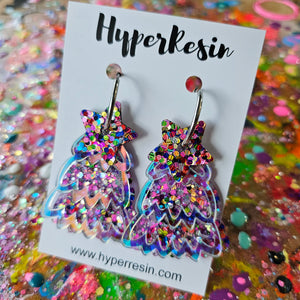 Handmade with epoxy casting resin, and laser cut acrylic. 
3 individual pieces per earring. Removable stacked pieces have a 2mm depth each piece. So they are light in weight to wear. 
Versatile. You get a few options on how you can wear our new Christmas trees. You can wear 1 piece, 2 pieces or all 3.
These have 25mm stainless steel, 2mm gauge huggie hoops. 
These are approx 70mm in length and 40mm at widest.
Earrings are photographed in front of a A7 backing card.

*Please note that with all handmade items there can always be slight imperfections and your earrings may slightly differ. That's just how resin works. 100% unique.